Maya Bellegarde has spent her entire life searching for a way to break the curse hanging over her and her people. As part of her quest, she volunteers to investigate an anomalous burial at a Swedish archaeological dig where a rare cache of documents has been discovered side by side with an ancient symbol linked to the Seven Sisters, the progenitors of the People.
While in Sweden, Maya meets James Terhune, an attractive archaic language expert, and invites him to take on a position at the Institute for Early Cultural Studies, the People's main historical research branch. James is thrilled by the opportunity Maya extends and intrigued by the attraction he feels for her. He soon begins to suspect, however, that the secrets of the grave are minor compared to the secrets Maya holds, secrets that could hamper their burgeoning relationship and cripple the work they've undertaken for the IECS.
The People aren't the only ones interested in the newly-discovered documents. An ancient enemy of the People resurfaces, threatening the lives of Maya and James' loved ones, and setting in motion a chain of events that could save the People, or destroy them.
1st edition released February 2014. 2nd edition released March 2015.
Published by Bone Diggers Press, copyright 2014, 2015.
"Well paced with scenes that varied from tender or funny to passionate and intense."
Night Owl Reviews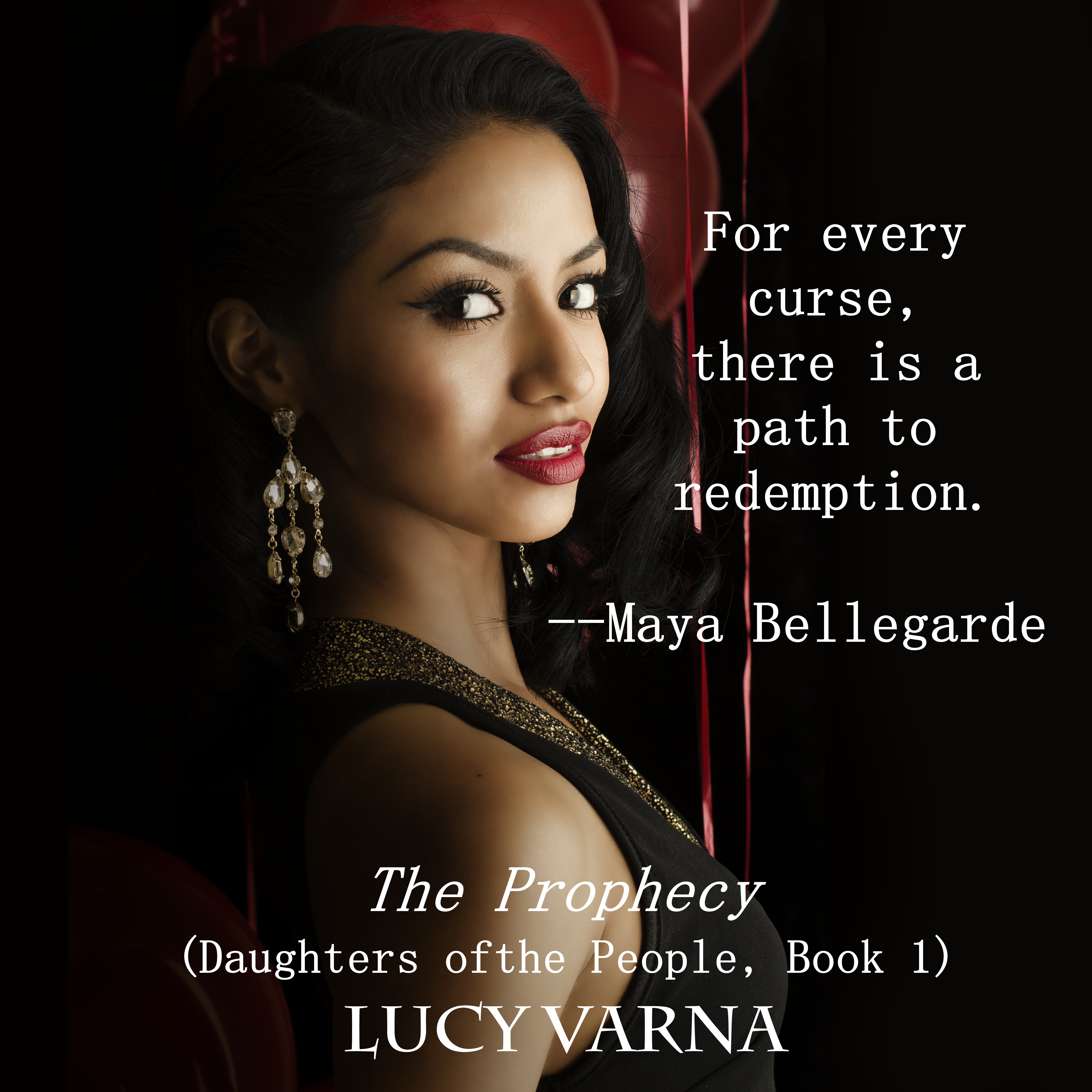 Excerpt from The Prophecy
Maya Bellegarde stepped off the private jet and breathed in the sweet air of late spring, bracing herself against the heat boiling up from the tarmac. The flight from the States to Stockholm hadn't been bad. Long, but not bad, and it had given her plenty of time to think.
Dani Nehring halted beside her, yawned, and pulled her body into a bone-popping stretch. "So, Swedish men or Swedish food?"
Maya didn't bother with exasperation. The younger Daughter was irrepressible, her sunny personality a reflection of her bright looks. Dani's blonde curls, crystal green eyes, and easy-going smile drew stares wherever she went. In many ways, she was an ideal companion, optimistic and always quick on the uptake, and maybe that was her biggest flaw. Very little came between her and a good joke, the bigger the better. Maya had learned early on to never drop her guard around Dani, unless she wanted to fall victim to a good-natured prank.
A trim woman approached from the hangar, her ebony hair pulled into a high ponytail, her pale face set in an impassive gaze. She was an inch taller than Maya's own five foot seven inch frame, slender and graceful, her body fit beneath a loose white cotton shirt and olive green cargo pants. The woman bowed and her ponytail swung forward, brushing the ends over one shoulder.
Maya returned the bow. "How have you been, Indigo?"
Indigo's sapphire eyes glinted in the bright sunlight. "Very well, Maetyrm. How was your flight?"
"Largely uneventful, even with Dani cracking jokes from takeoff to landing."
"Hey, now," Dani said, and Maya shot her a quick grin.
A slight smile tilted Indigo's serious features into soft humor. "I've already made arrangements for your stay. Two rooms inland close to Sandby borg and a late model Volvo sedan, exactly as Director Upton requested."
"And the dig?"
"As soon as you've settled into your cabins."
"So, no men, then?" Dani asked.
Maya rolled her eyes skyward. "Business before pleasure."
Dani grinned and flipped her blonde curls back. "I have to brush up on my Swedish first, anyway."
As soon as the luggage was loaded, Indigo slid into the driver's seat of the Volvo. Maya slipped into the back, leaving a chattering Dani to the front. During the drive southeast from Stockholm, Maya tuned one ear to Indigo and Dani's conversation as they shared gossip old and new, and focused on their destination, an archaeological dig at Sandby borg, the site of a fifth century land fort that had been abandoned after a brutal massacre.
When Indigo had contacted Rebecca Upton, head of the Institute for Early Cultural Studies, to report a promising gravesite at the borg, Maya had volunteered to visit and examine the skeleton and any artifacts. She'd tried not to get her hopes up. Over the years, she'd visited a lot of archaeological sites only to come away disappointed. This one was different, though. There was something here, something the People could use. She could feel it in her bones, and a Daughter's instincts never lied.
They crossed Öland Bridge, a six kilometer road connecting Öland Island to the Swedish mainland. Maya brought her attention back to the conversation as Indigo pointed out landmarks in the small villages they passed through. They took the perimeter highway north, then a series of smaller roads inland. Within twenty minutes, a small group of rental cabins appeared on the side of the road. Indigo pulled up beside one and parked.
Dani stepped out of the rental and wrinkled her slim, straight nose. "I thought Sweden was, like, old. This looks like downtown back home."
"Not everybody can live in medieval castles, Dani," Indigo said.
They checked in at the main cabin, dropped their luggage off in their separate units, and freshened up in Maya's room. The cabins weren't air conditioned. The June heat had driven the interior temperatures to a nearly unbearable level, in spite of the efforts of a single desktop fan placed in each room.
Dani tugged the neckline of her t-shirt away from her chest. "Man, tonight's gonna be miserable. How do you stand it?"
Indigo smiled, flashing dimples. "We have air conditioning."
"Spoiled," Maya said.
Dani groaned. "You're not gonna tell us one of those 'good ol' days' tales, are you?"
"Maybe later, if you're really bored," Maya said drily. "If it makes you feel better, you'll be spending part of the night watching the camp instead of here sweltering in the heat."
"She may not need to be at the dig tonight." Indigo dropped onto the edge of the room's only bed. "Looters have hit a couple of nearby digs, so we've been taking turns staying on site at night. It's my turn tonight."
Maya nodded. "Still, I may have Dani do a little recon after dark."
"She can keep me company, then."
"Sure," Dani said. "Soon as I have a good look-see."
The dig was a short drive from the cabin. Indigo slowed on approach, allowing plenty of time for Maya and Dani to study the outer ring of Sandby borg's ruins. The crumbling foundations of ancient walls rose from the grass, a long-unneeded protection for the interior buildings. A handful of tents covered tables stacked with tools, plastic and cardboard storage boxes, and computers. A trailer was located on the opposite end of the site, near a small storage shed. Only a handful of people were on site, some engaged in fine digging, others apparently sorting and cataloguing. One young woman sat alone about fifty yards from the main dig in an open, rectangular pit, her bent head and shoulders visible above the earth.
Indigo brought the Volvo to a halt in the graveled parking area next to a handful of other vehicles. The three women got out, and Maya and Dani followed Indigo into the main part of the dig toward the tents. As they approached, two men looked up from their work at one of the tables, one ancient and stooped, the other on the upside of middle age.
The older man retrieved a wooden cane from its resting place against the table and leaned into it as he faced the women. "Indigo, my dear," he said, his English heavily accented, his sagging features animated under a mop of silver hair. "You've brought us quite the treat today."
"Dr. Lindberg, this is Dr. Maya Bellegarde from the Institute for Early Cultural Studies and her assistant, Daniella Nehring. They're here to examine the anomalous burial."
"Of course. I remember. So much excitement here now. The days run together." Dr. Lindberg gestured to the younger man by his side. "This is my colleague, Dr. James Terhune. I brought him in to consult on that burial."
"Pleased to meet you." James grasped Maya's hand, his own calloused and firm. The warmth of their grip spread up Maya's arm. Her heart skipped and her skin tightened, and a delicious flutter of nerves tingled in her abdomen.
The heat generated by the simple touch intrigued her. She studied James from beneath lowered lashes, assessing him carefully. He was taller than her by about four inches, slim and athletic. Intense chocolate brown eyes peered at her out of a thin face with high cheekbones, an aristocratic nose, and a mouth that wasn't quite wide enough to overpower his other features. He hadn't shaved in a day or so and his rich brown hair was slightly unkempt. The ends brushed over the collar of an untucked, blue cotton shirt worn over jeans and hiking boots. His hand slid away from hers, creating a warm friction along her palm, and her stomach jumped.
"Likewise." Maya tucked her hands into the pockets of her cargo pants, curling her fingers around the heat lingering on her palm. "We're anxious to see the site."
Dr. Lindberg pointed the end of his cane toward the grave. "Come, then. James and I shall escort you. Indigo, would you be a dear and set up refreshments for our guests?"
"Certainly, Dr. Lindberg."
"Supper tonight," Maya said.
Indigo nodded and bowed. "Yes, Maetyrm. Dani, gentlemen." She pivoted and strode toward the trailer, her movements efficient and precise.
Dr. Lindberg smiled fondly after Indigo. "Such a good girl, always so helpful. Very bright, too."
"I've found her to be so myself," Maya agreed mildly. The girl he'd just sent on errands was twice his age, though Maya had a feeling that wouldn't matter one whit to Dr. Lindberg, even if she could tell him. His fondness would undoubtedly color his opinion and he'd still think of Indigo as a young woman and not the century-and-a-half years old warrior she was.
Dani tucked her hand into the crook of Dr. Lindberg's elbow. "Well, now that the competition's out of the way, I can flirt with the handsomest man here."
Dr. Lindberg laughed and patted her hand with gnarled fingers. "Tell that to my wife, please. She thinks I've become crotchety in my old age."
As the unlikely pair strolled across the site, Maya fell into step beside Dr. Terhune. They walked for a few moments in silence, listening to the cadence of the conversation between Dani and Dr. Lindberg.
"I read your paper on female divinities in sedentary hunter-gather bands. Fascinating perspective." James stuffed his fingers into the front pockets of his jeans. "Now that I've met you, though, I can't believe somebody as young as you are could write something like that. The research alone must've taken years and you…"
Maya glanced at him. "I what?"
He cleared his throat, his gaze focused on the couple in front of them. "You barely look old enough to be out of college."
"Just what every woman wants to hear."
He smiled and the corners of his eyes crinkled along faint laugh lines. Their arms brushed as they walked, shooting a spark of warmth down Maya's arm.
"You take the IECS' Journal, then?" she asked.
"Who doesn't?" He hesitated, cleared his throat again. "I applied for a pass to the IECS Archives a few years back. They turned me down flat."
Maya pursed her lips together. So he wanted access to the Archives, did he? And just when the People needed him to be there. "I'm sure Director Upton could be persuaded to grant you a pass if you're still interested. I'd be happy to put in a good word for you."
"Just like that, no strings attached, for a man you just met?"
"Oh, there are always strings, and we have just met, but your reputation precedes you. You're part of the reason we're here."
"Do tell." His mouth twitched into a crooked grin, flashing white, even teeth. "Is that my professional reputation or the reputation I gained in my misspent youth?"
She laughed. "We're hoping to lure you to the IECS to work with a new collection we've acquired."
"So, my professional reputation, then."
"It's a good one."
Maya slowed to a stop. Ahead of them, Dani and Dr. Lindberg had reached the pit, and whatever was in it must've been something. Dani loped away from it, crossing the open ground quickly, and bounced to a stop in front of Maya and James, her green eyes sparkling. "Maetyrm, you have got to see this." She spun and bounded back to the pit.
James eyed Dani's receding figure. "Does she always bounce like that?"
Maya sighed. "I'm afraid so."
They approached the pit at a quicker pace. The young woman Maya had spotted earlier was hunched over a sketchpad next to a single skeleton turned partially on its side. Over time, dirt had filled in the space between the bones, holding the remains in place, allowing the archaeological team to examine it in situ. Wisps of what could've been fabric clung to some of the bones. Aside from an armband encircling the humerus of the top-facing arm, the only other items resting near the body were the remains of a long, fire-hardened wooden spear with a rusted metal point, still partially submerged in the dirt.
Maya inhaled deeply, willing her racing heart to calm. "Female?"
Dani tilted her head in a slight nod.
"Quite exciting. Burials from that time period are very rare. Immolation." Dr. Lindberg leaned against his cane, both hands pressing into its top. "Pyres were very popular in the fifth century. Good for the soul, but bad for archaeologists, eh?"
"Have you definitively dated the burial?" Maya asked.
"Still waiting for the lab to settle that." James shifted into a wide-legged stance and crossed his arms over his chest. "Some of the artifacts appear to be centuries older than others. It's made dating the burial itself a little tricky, but the team here believes she was buried at the same time as the massacre."
A tendril of excitement wound through Maya. Dani caught her eye and inclined her head toward the skeleton, her eyebrows raised.
"Dr. Lindberg, would you mind if I took a closer look?" Maya asked.
"Certainly not." A gentle smile lifted Dr. Lindberg's expression. "We welcome your good opinion."
The sketch artist gathered her material and climbed out of the pit, heading toward the main encampment. "Be back when you're done."
"Thanks." Maya maneuvered herself carefully into the pit and examined the skeleton's upper torso as she picked her way around the remains. "Strange that this one body was buried when the others were left laying where they fell."
"She must have been quite significant," Dr. Lindberg said. "Perhaps a courier or a diplomat of some sort."
Maya paused in mid-step. "What makes you say that?"
"That's the reason I'm here." James waggled his eyebrows. "Late last week, the team found a small stash of documents sealed in a metal box that was buried with our mysterious female."
Indigo had reported that cylinder seals had been found with the body, possibly worn as jewelry, but not documents. Maya filtered through her knowledge of Iron Age Scandinavia. "Documents, in northern Europe during the fifth century? Maybe Roman in origin?"
"Only one." James' smile exuded the same excitement clawing at Maya. "But it wasn't produced in northern Europe, best I can tell. There were at least three languages written on a variety of media buried here. Some pictographs as well." His smile stretched into the grin of an academic with a rare treasure on his hands. "One item was a small clay tablet written in Linear A."
Maya blinked, clamping her jaws together against a disbelieving gape. "No."
"Oh, yes." He rocked forward onto the balls of his feet and back again. "So far, we've uncovered the clay tablet, animal skin, papyrus, half a dozen cylinder seals. Some of it just fragments, but still."
She sucked in a breath. The smell of freshly turned dirt seeped through her, comforting in its familiarity. "A regular library, then."
Dani cleared her throat. "Maetyrm, the armband."
Maya knelt in the dirt beside the skeleton, carefully balancing herself above it. The armband glittered dully in the late afternoon sunlight, and a small chill went up Maya's spine. It was crafted of hammered copper, greening with age and exposure to the elements and the dirt it had been buried in. In the dimming light, she could just make out a symbol stamped into it, a single eye staring at her from across at least fifteen centuries. It was a symbol she knew well and it raised her hopes higher than she'd ever allowed them to soar.
She stood and brushed her hands off against the loose cotton of her cargo pants. Dani's grin held smug satisfaction, an emotion Maya could hardly deny the younger Daughter. It was welling up in her own chest, even as she tried to tamp it down. Hope could do funny things to a Daughter, and here was hope in its highest form, a possible clue to the lost prophecy contained in one of the most ancient symbols of the People, a symbol associated specifically with that prophecy.
Maya glanced from Dr. Lindberg's weathered face to James' smiling one. "Take me to the artifacts," she said, and crawled out of the pit.